Print Page
CTI Honored at 2019 CRO Leadership Awards
June 25, 2019
FOR IMMEDIATE RELEASE [San Diego, CA ~ June 25, 2019] CTI Clinical Trial and Consulting Services (CTI), a multi-national, privately held, full-service contract research organization (CRO) was honored at the 2019 CRO Leadership Awards, which took place June 24, 2019 as part of the Annual Global DIA Meeting in San Diego, CA.
In its 7th year, Life Science Leader magazine partnered again with Industry Standard Research (ISR) to determining the recipients of the 2019 CRO Leadership Awards. CTI won an award in the categories of Capabilities, Compatibility, Expertise, Quality, and Reliability. Winners of the awards are determined using primary market research conducted by ISR. Sponsors provide ratings of CROs based on recent outsourced projects, and this experiential feedback is analyzed by sponsor company size to reveal leading CROs in different performance categories.

This is the second year in a row that the CTI team has been recognized at the CRO Leadership Awards.

"The CTI team has always been dedicated to providing the highest quality service to our sponsors," remarks Timothy Schroeder, CEO of CTI. "We pride ourselves on these qualities - being reliable, providing expertise, being easy to work with, etc., and it is an honor to consistently hear from an external, unbiased source that we are successful in demonstrating those characteristics to our partners."

CTI announced the opening of a San Diego office earlier this month. The company, with an annual average staff retention rate of 95%, has been working for two decades in the drug development industry across North America, Europe, South America, Pac-Asia, and Africa, specializing in clinical research programs involving critically ill patient populations, and has more than 30 offices worldwide to serve more than 200 pharmaceutical, biotechnology, and medical device clients.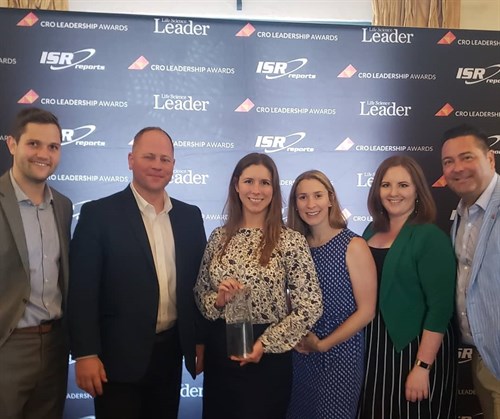 About CTI Clinical Trial and Consulting Services
CTI Clinical Trial and Consulting Services is a global, privately held, full-service contract research organization (CRO), delivering a complete spectrum of clinical trial and consulting services throughout the lifecycle of development, from concept to commercialization. CTI's focused therapeutic approach provides pharmaceutical, biotechnology, and medical device firms with clinical and disease area expertise in rare diseases, regenerative medicine/gene therapy, immunology, transplantation, nephrology, hematology/oncology, neurology, infectious diseases, hepatology, cardiopulmonary, and pediatric populations. CTI also offers a fully integrated multi-specialty clinical research site that conducts phase I-IV trials. CTI has a passion for helping life-changing therapies succeed in chronically and critically ill patient populations. With clinical trial experience across 6 continents, CTI partners with research sites, patients, and sponsors to fulfill unmet medical needs. CTI is headquartered in the Greater Cincinnati, OH area, with operations across North America, Europe, Latin America, and Asia-Pacific. For more information visit www.ctifacts.com